Squint – Symptoms, Types and Causes
Please contact us, if you have any queries
     Squint, also known as Strabismus, is a condition when both eyes point in different directions. While one eye may look normal, the other one tends to turn up (hypertropia), turn down (hypotropia), turn in (esotropia), or turn out (exotropia). When the eyes are not properly aligned, one or both eye focuses on different objects and sends the brain a different signal. When the brain perceives these two different images, it tends to get confused.
   Types of Squint
     There are different types of squints. When a squint is permanent, it is called a constant squint, and an intermittent squint when temporary. Squint can often be misguided by a "Pseudo Squint" because of the wide gap between the eyes making the eyes look misaligned and often mistaken for a squint. Sometimes the squint eye can be corrected and made normal with treatments and exercises. Most commonly seen in young children anyone of any age can develop a squint.
   Symptoms of Squint
     Some of the symptoms that can help identify squint are crossed eyes, double vision, depth perception issues, eyes moving separately, loss of vision in just one eye, etc. Strabismus is caused by an abnormal condition of neuromuscular control of eye movement. Here, the eye muscles that control the movement and eyelids are unable to function together in unison, and as a result, the eyes cannot focus on one object at the same time. When you have a squint, the binocular vision is disrupted and obstructs the person's depth perception.
   Causes of Squint
    Squint can occur for very many reasons, the exact cause of which is not known. While some people are born with a squint, others may develop it later in their life, and for some; it may be genetic or hereditary. In children, squint may be caused due to refractive errors like astigmatism, short-sightedness, and long-sightedness.
    Medical advice is necessary if you notice squint in kids older than three months. You must start an early treatment once you notice squinting eyes. Young children may develop the habit of closing one eye to focus on something else or turning their heads to one side. Ignoring squint eye and delaying treatment can lead to very many other problems and even vision loss in the future.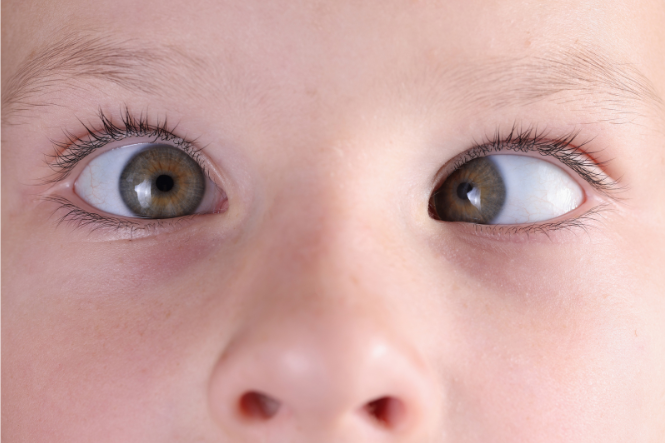 In some rare cases, squint can be caused due to medical conditions and infections like measles, viral fever, the incorrect balance of muscles, Down's Syndrome, cerebral palsy, brain or nerve-related problems, developmental delays, etc. Squint can sometimes be a symptom of retinoblastoma, a rare type of childhood eye cancer. 
     For all squint-related eye conditions, feel free to get in touch with one of the finest squint specialists in Kerala, Dr Rani Menon from the renowned Dr Rani Menon's Clinic in Thrissur. Suture-less or no stitch squint surgery using fibrin glue was also pioneered primarily by her in Dr Rani Menon's Clinic, Thrissur. Make regular eye doctor consultations to identify squint at an early stage and do the necessary corrections and treatment to lead a normalized life. Our next blog will provide more information in detail about squint treatment in Kerala.